Guided historical tours
special exhibitions and
refreshments all weekend
Knights Hospitaller at
Temple Balsall Heritage Weekend
Friday 9th September
Concert by Cantemus
St Mary's Church 7.30 pm
Tickets £5 - tel. 01564 778022

Saturday 10th September
Art Exhibition
School Hall - 10 am - 5 pm


Autumn Fair


Temple House Lawn - 12 noon - 5 pm
The ever-popular stalls
Hot Pork Rolls for Lunch
Traditional Games & Stalls
Cakes - Books - Produce - Bric a brac
Demonstrations and Entertainments
Music by Birmingham Concert Band

Sunday 11th September
Art Exhibition
School Hall - 11.15 am - 4 pm
Historical Guided tours
and exhibitions- 2 - 5 pm
Choral Evensong
St Mary's Church - 6 pm
Sung by Birmingham Cathedral Choir
Preacher: Revd Tim Pilkington

Heritage Weekend and Autumn Fair
9th - 11th September 2011
Saturday 12 noon to 5 pm
Sunday 2 to 5 pm

Art Exhibition open
Saturday 10 am - 5 pm, Sunday 11.15 am - 4 pm

Car parking is situated off Fen End Road
No parking on the road
Disabled badge holders may park opposite the School.
Please follow the stewards' directions
This popular event, co-ordinated by the Civic Trust together with the Department for Culture, Media and Sport aims to stimulate public awareness of England's rich architectural and cultural heritage by allowing free access to hundreds of properties that are normally closed to the public or that would usually charge admission.

Uniform of the Dames,
Temple Balsall Heritage Weekend
Lady Katherine Housing and Care
The famous seventeenth century Almshouses, sympathetically modernised, provide Supported Sheltered Housing and Residential Care for 56 older men and women. Learn about the continuing care facilities provided in this tranquil and historic environment.
The Church of St Mary the Virgin
This special building, the mid-13th century chapel of the crusading Knights Hospitaller, was saved from ruin in 1660 by Lady Anne Holbourne, elder sister of Lady Katherine Leveson. Later restored by Gilbert Scott in 1840, it now serves a thriving congregation.
Notices displayed in the church will explain the architectural features and associated history, and a highlight will be Evensong with Birmingham Cathedral Choir at 6.00pm on the Sunday. You are also welcome to join us for Parish Eucharist at 10am this and every Sunday. The Churchyard is maintained to provide a peaceful haven for people, flowers, birds and wild animals, with the advice of the Living Churchyard Project.


Lady Katherine Leveson C of E Primary School, Temple Balsall
Lady Katherine Leveson C of E Primary School
As well as visiting the original 18th-century School Room inside the Court you can also enjoy a wide range of displays and activities created by the children of today's flourishing Church of England School on the theme of our school - our environment - our community. These will include a Victorian schoolroom with stalls and games, maypole dancing, performances by the school choir and a challenging childrens' trail to find objects around the site.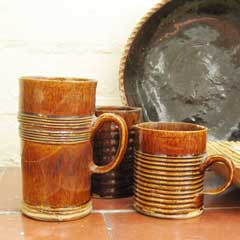 The 17th and 18th century pottery of the Evetts Family, on display in the Old Hall, Temple Balsall
The Old Hall
The 12th Century aisled hall was the Preceptory of the Knights Templar Order and the building has been in use ever since. Displays here will focus on aspects of the history of Temple Balsall, including material from Parish Archives and on the first floor the 17th and 18th century crockery of the Evetts family, carefully recovered from a former cellar.
Teas and Refreshments
Temple Balsall's Refreshment Association and Women's Institute join forces to sustain you in the tea tents on the lawn in front of Temple House.
Guided tours of historic Temple Balsall
Please join us on special guided tours to share the history and traditions of the site on all three days.
Car parking is situated off Fen End Road - no parking on the road.
Disabled badge holders may park opposite the School.
Please follow the stewards' directions.